Each year 300,000 people in the UK suffer a heart attack.
85% of people who have a heart attack have the potential to survive if basic life support is received soon enough.
Every minute without basic life support reduces the chance of survival by 10%
Debenham First Responders: Saving Lives in and around Debenham!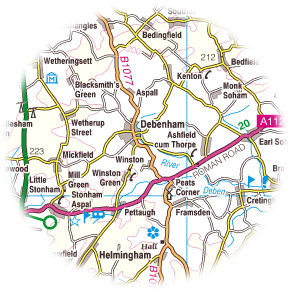 © Crown copyright 2007 *
Who are we?
We are a community based, voluntary group trained by the NHS and operating under the guidance of the East of England Ambulance NHS Trust. We are despatched by the Ambulance service in response to urgent 999 calls received from anywhere within about a 3.5 mile radius of Debenham. Currently we have seven operational members and two more who are awaiting training. <More...>
Why are we needed?
An Ambulance is always despatched in response to a 999 call but as our community is relatively remote it can take some time for an Ambulance crew to arrive at an incident. In some cases - for example a heart attack leading to cardiac arrest - receiving prompt and appropriate medical care during the first few minutes can make the difference between the patient living or dying. Following a cardiac arrest, without treatment a patient's chance of survival decrease by 10-15% with each minute that passes. So minutes matter, and as First Responders live and work in the community we can arrive at an incident very quickly. <More...>
What do we do?
We are trained in resuscitation techniques and carry a comprehensive medical kit which includes oxygen and Automatic External Defibrilator (AED). An AED monitors a patient in cardiac arrest and if necessary can deliver a controlled electric shock to restart the heart, together with basic life support techniques - chest compressions and rescue breaths - this can dramatically improve the patients chances of survival during those vital minutes before the Ambulance arrives. <More...>
Help us to help you
We are volunteers and our time is given freely. Although we are trained by the NHS we are not funded by them! The kit that we carry has to be funded by the local scheme and an AED alone costs in the region of £2000! At present most of our kit is borrowed and safety clothing etc has been bought by group members and is shared between us! You can help in two ways: Join us as an active member or fund raiser; or please make a donation to our funds. You can donate by cash or cheque! <More...> All donations will be kindly acknowledged on our web site unless you wish to remain anonymous. Thank you.
The next life we save could be yours!
* Image reproduced with permission of Ordnance Survey www.ordnancesurvey.co.uk/getamap